8 days
Dominican Republic – Estimated 15 Service Hours
Meaningful. Sustainable. Unforgettable
Experience the Dominican Republic's diverse landscape, as you journey from Santo Domingo to Hato Mayor, driving past fruit plantations and tropical sugar cane fields. Explore the history and culture of baseball within the country while gaining insight into how a local hobby has become a nationwide pastime—with many of the athletes ranking among the best in the world. Working together with community members, you'll build longterm solutions to spark renewed interest in education among young local athletes. As you foster meaningful relationships within the community, you'll celebrate customs and help empower generations to come.
Travelling with your team? Talk to a Tour Consultant about how to customize this tour.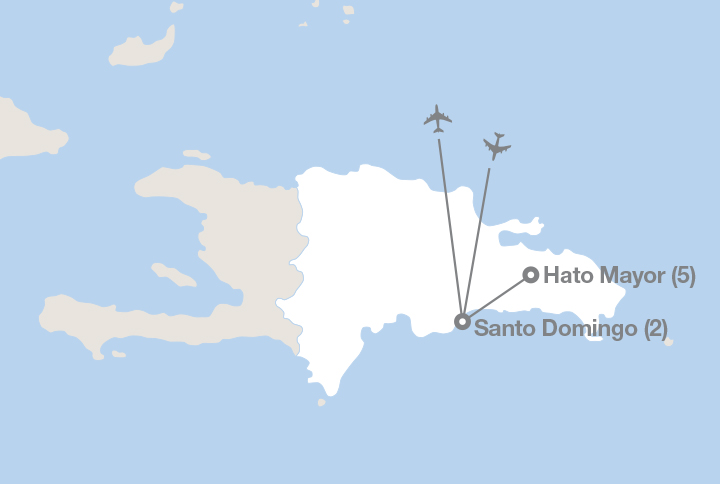 Your Service Project Themes
We work with local non-profits to better understand the needs of each community and then focus projects on those issues. Themes include:
Education
Youth Development
Community Building
DAY 1: ARRIVE IN SANTO DOMINGO
Meet your Field Director at the airport. After you arrive at your accommodations, settle in and meet your group for an orientation and safety overview.
DAY 2: BOCA CHICA
Explore regional baseball history through visits to Dominican baseball museums.
Interview former professional Dominican baseball players who have returned to their hometowns.
Get to know community baseball teams who fostered the skills of some of the region's finest athletes.
DAYS 3-6: SERVICE PROJECT — HATO MAYOR
As communities evolve so do their needs. That's why we work closely with non-profits to better understand the local challenges. Since projects are determined closer to your actual tour date, here's a glimpse at what a typical day might look like: 
Participate in youth development-focused service work aimed at keeping young athletes in school.
Explore the role of baseball in community life through culturally immersive activities with local youth and discussions with former professional baseball players.
Observe or participate in a friendly softball game with locals.
Partake in evening workshops to deepen your understanding of the issues facing Dominican youth in local baseball communities.
 
DAY 7: BEACH EXCURSION 
Soak up the sun and surf on a full-day beach excursion.
DAY 8: DEPART FOR HOME