9 days
Rome (or add 2-day extension)
A FRESH APPROACH TO LANGUAGE IMMERSION 
Each day of your Language Immersion Tour is built around a different theme that ties together daily language classes, cultural activities and interactions with locals. Accredited classes at our EF International Language Schools provide students with the cultural context and relevant vocabulary they'll need to navigate each experiential activity. Through it all, your Language Immersion Tour Director will be with you, supporting your students' language learning and highlighting each breakthrough moment.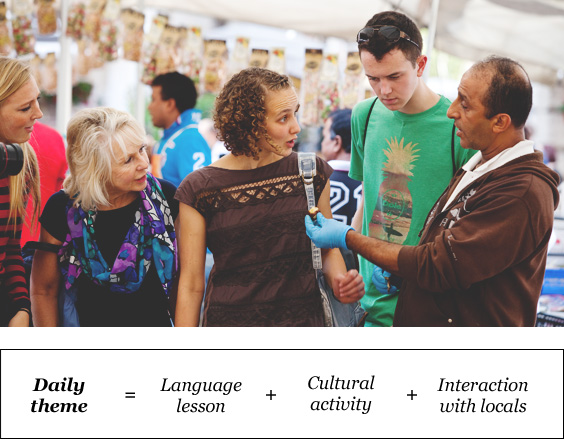 Here is our most popular Language Immersion Tour in Rome. We can also work with you to customize an experience that meets your needs.
Day 1: Fly overnight to Italy
Day 2: Rome
Meet your Tour Director at the airport
Explore the Trastevere neighborhood and the Janiculum Hill, an important section of Rome that's off the beaten path
Day 3: Rome
Practice your speaking skills with the vendors at Mercato Porto Portese
Discover Rome's city-center on foot: Trevi Fountain; Pantheon; Piazza Navona; Spanish Steps
Take an expertly guided tour of the Colosseum and the Roman Forum
Day 4: Rome
Daily Theme: Ancient Rome
Practice your conversational Italian and learn about life in Ancient Rome during a morning language lesson
Learn what it took to be a gladiator during a training lesson
Enjoy dinner with your fellow gladiator trainees
Day 5: Rome
Daily Theme: Italian Culinary Traditions
Interact with local vendors during a market challenge at the lively Campo dei Fiori
Enjoy a picnic of regional food
Practice food-related vocabulary in an afternoon language lesson
Prepare your dinner at a cooking class led by a local Italian chef
Day 6: Rome
Daily Theme: Italian Film Traditions
Learn the lingo of Italian cinema in a morning language lesson
Take a guided tour of the Cinecittà film studio
Make your own short film
After dinner, rest your legs at an Italian film screening
Day 7: Rome
Daily Theme: Family Life in Italy
Interact with locals during a city-wide scavenger hunt
Learn vocabulary about family members and daily activities in an afternoon language lesson
Enjoy a homemade dinner with a local family
Day 8: Rome
Daily Theme: Italian Art and Artists
Master art-related terms while practicing your conversational Italian in a morning language lesson
Take a guided tour of Vatican City: Sistine Chapel; St. Peter's Basilica
Enjoy more time to explore Rome or add an optional art workshop led by a local Italian artist
Day 9: Depart for home
Add 2 more days
Day 9: Sorrento Region
Travel beyond the ancient monuments of Rome and explore another side of Italian culture in the Sorrento region.
Take a guided tour of the ruins of Pompeii
Day 10: Capri / Rome
Take a walking tour of Capri with an expert local guide
Enjoy a boat cruise around Capri
Return to Rome for your final evening in the city
Day 11: Depart for home