11 days
(Or add 2-day extension) – Estimated 15 Service Hours
Meaningful. Sustainable. Unforgettable.
Witness the breathtaking terrain of East Africa as you learn about the challenges faced by rural communities. From sandy coastline to snow-capped mountains, you'll explore Kenya's scenic beauty on guided nature hikes and safaris. With a spectacular African landscape as your backdrop, you'll go inside the Maasai Mara community, working side-by-side with locals to address challenges in education, agriculture and more. As you collaborate with community members on service projects, you'll be immersed in the Maasai culture, learning from local elders and participating in traditional customs.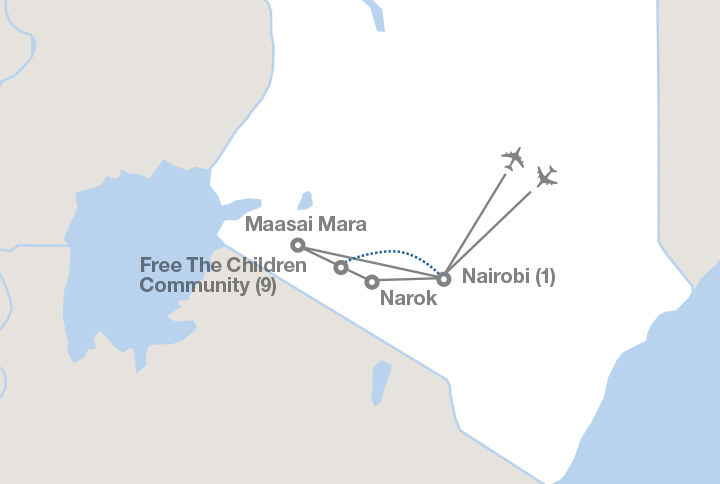 Your service project themes
We work with the award-winning charity WE Charity to better understandthe needs of each community and then focus projects on those issues.Themes include:
Education
Health
Clean Water and Sanitation
Alternative Income and Livelihood
Agriculture and Food Security
Day 1: Fly overnight to Kenya
Day 2: Arrive in Nairobi
Meet your Field Director at the airport and transfer to your accommodations in a small suburb of Nairobi.
Day 3: WE Charity Community
Travel to the WE Charity community where your service project will take place.
Participate in a community orientation, attend a Build SiteSafety101 module and learn about WE Charity's holistic and sustainablecommunity development model.
Spend the night camping under the stars.
Days 4-7: Service Project—Maasai Mara Region
As communities evolve so do their needs. That's why we work closely withWE Charity to better understand the challenges in the Maasai MaraRegion. Since projects are determined closer to your actual tour date,here's a glimpse at what a typical day might look like.
Working side-by-side with locals, you'll help address challengeswith projects like restoring schools, building libraries, and digginglatrines and hand-washing stations.
Particpate in daily Swahili lessons and enjoy culturalactivities as you're immersed in the language and heritage of thecommunity
Evenings are spent reflecting, discussing events as a group, anddrawing connections between the day's work and relevant global issues.
Day 8: WE Charity Community
Explore Kenya's animal kingdom on a wild safari. You'll tour the Maasai Mara Region, a portion of the Serengeti known for its wildebeest and zebra migration, and excellent game-viewing year round.
Day 9: WE Charity Community
Practice ancient survival techniques like animal tracking and identification, learn how to build shelter and celebrate traditional customs during your Maasai Mara Warrior Training. Put your leadership skills to the test as you work with your group to build an action plan for global change.
Day 10: Transfer to Nairobi
Transfer back to Nairobi and board an evening flight for home.
Day 11: Depart for home
Arrive home
Add 2-day Extension
Day 11: Service Project—Maasai Mara Region
Day 12: Transfer to Nairobi
Transfer back to Nairobi and board an evening flight for home.
Day 13: Depart for home
Arrive home