12 days
Delhi, Agra, Udaipur – Estimated 15 Service Hours
Meaningful. Sustainable. Unforgettable.
Just a few hundred miles southwest of New Delhi is the seemingly ancient city of Udaipur—a bustling collection of palaces and winding waterways that earned it the name "City of Lakes". From the moment you step foot into town, your senses will be overwhelmed with the aroma of samosas cooking in street stalls, the vibrant colors of sari-clad women and the sound of hundreds of conversations in dozens of languages. Travel down winding roads to one of the rural communities. Together with the award-winning charity WE Charity, you'll spend your days volunteering on a building project and getting to know the locals through meaningful service, daily chores and traditional customs.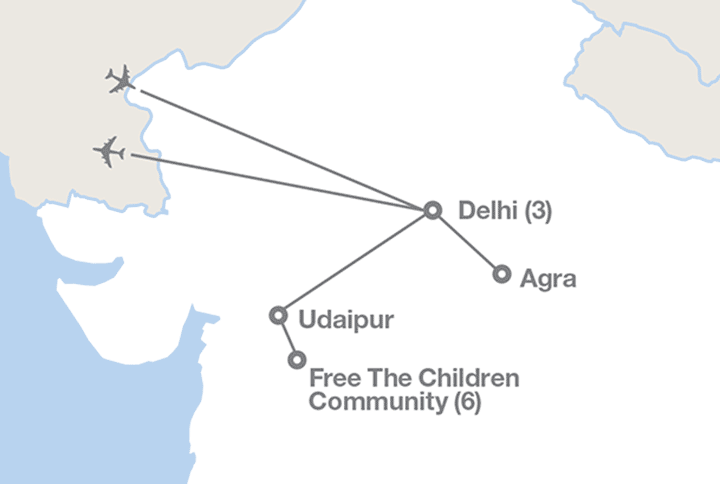 Your service project themes
We work with the award-winning charity WE Charity to better understand the needs of each community and then focus projects on those issues. Themes include:
Education
Health
Clean Water and Sanitation
Alternative Income and Livelihood
Agriculture and Food Security
Day 1: Fly overnight to India
Day 2: Arrive in Delhi
Meet your Tour Director and Field Director at the airport. After you arrive at your accommodations, settle in and meet your group for the country orientation and safety overview.
Day 3: Delhi
Explore the city on foot with your expert local guide. In Old Delhi, walk through the symbolic heart of the city once filled with mansions, mosques and gardens. Then head to New Delhi, the official capital where historic sites abound.
Day 4: Agra
Travel to Agra, the former capital of India and location of several UNESCO World Heritage Sites.
Visit the Taj Mahal, the extravagant palace that's considered by many to be the jewel of Muslim art.
Visit the Agra Fort, an ancient walled city symbolizing power, strength and resilience.
Days 5-10: Service Project—WE Charity Community
As communities evolve so do their needs. That's why we work closely with WE Charity to better understand local challenges. Since projects are determined closer to your actual tour date, here's a glimpse at what a typical day might look like.
Working side by side with locals, you'll help address challenges that focus on areas of improvement in education, heath, clean water and sanitation, alternative income and agriculture. These projects include building and restoring local schools, planting trees and community garden work.
Interspersed throughout the day, you'll participate in activities that celebrate local culture like language lessons, yoga instruction, guided tours of Udaipur, Bollywood dancing lessons and more.
Each evening, you'll reflect, discuss events as a group, and draw connections between the day's work and relevant global issues.
Day 11: Depart for home
Day 12: Arrive home