9 days
Quito, Minga Lodge and Banos – Estimated 6 Service Hours
Meaningful. Sustainable. Unforgettable
Venture into the heart of Ecuador's lush Amazonian rainforest, where you'll find one of the world's most diverse ecosystems. In Otavalo, you'll experience the culture and heritage of the city, visiting the Mercados de los Ponchos—a famous market known for its local beautiful textiles—and learning how traditional crafts and meals are prepared when you visit a local family's home. As you're immersed in the Quito and Otavalo cultures, you'll also put your hands to work: building and restoring local schools and promoting social justice.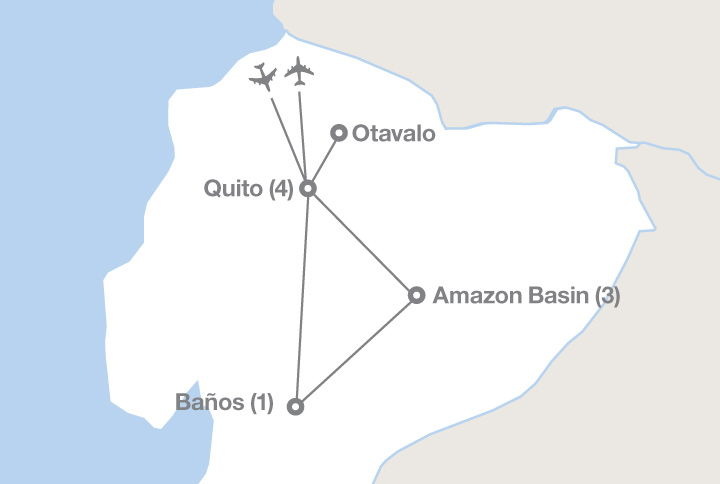 YOUR SERVICE PROJECT THEMES
We work with the award-winning charity WE Charity to better understand the needs of each community and then focus projects on those issues. Themes include:
Education
Health
Clean water and sanitation
Alternative income and livelihood
Agriculture and food security
Day 1: Arrive in Quito
Meet your Field Director at the airport.
Day 2: Quito
Visit Yunguilla, a sustainable development community in the cloud forest.
Tour the Intiñan Solar Museum and witness the natural forces at work near the equator
Day 3: Transfer to the Amazon Basin
Take a scenic drive through the Amazon Basin and canoe up the Napo River to the Minga Lodge. Settle in for community orientation.
Days 4-5: Service Project — Amazon Basin
As communities evolve so do their needs. That's why we work closely with WE Charity to understand each community's challenges. Since projects are determined closer to your actual tour date, here's a glimpse at what a typical day might look like.
Each morning, you'll begin your service project in a nearby village, focusing on education, clean water and agriculture.
Afternoons are spent immersed in cultural activities.
Evenings are a chance to reflect, discuss events as a group, and draw connections between the day's work and relevant global issues.
Day 6: Service Project — Transfer to Baños de Agua Santa
Bid farewell to the Minga Lodge and travel by boat and bus to Baños de Agua Santa, a city known as the Gateway to the Amazon.
Day 7: Baños
Visit one of the 60 waterfalls that make Baños such a popular world attraction.
Explore the beautiful Pastaza river canyon and then return to Quito.
Day 8: Otavalo
Browse the local markets for local crafts and regional foods.
Learn the art of making ponchos at a workshop taught by a local family.
Visit Mercado de los Ponchos, a famous market where indigenous Otavaleños sell woven textiles like blankets and tablecloths.
Day 9: Depart for home
*Please note, some flights will depart late in the evening which will result in the group arriving back in Canada on the following day.